http://www.style.com/
Paris 2010 Bahar Haute Couture moda haftası, internetten izleyebildiğim kadarı ile çok renkli geçti. Defilelerden değil ama izleyicilerin görüntülerinden beğendiklerimi bugün sizlerle paylaşacağım. Yarın Chanel, Givenchy ve Dior... showlarından bahar için ipuçları veren seçimlerim olacak
I could follow Paris 2010 Haute Couture Fashion Week 2010 from internet and it was very colorfull. I picked some favorite shots out of the shows for today. I will share my key choices from Chanel, Givenchy and Dior shows
Event'e damgasını vuran olaylardan biriyse 13 yaşındaki blogger Tavi'nin şapkası yüzünden Grazie muhabirinin Dior defilesini rahat izleyememesi ve Twitter ile bunu dünyaya duyurmasıydı:)
Ben fazla yorum yapmak istemiyorum Tavi'nin olaya cevabı
burada
, sadece küçük Tavi'nin donuk bakışlı, uzak, yapay halinden çok aşağıdaki videodaki doğal, mutlu ve gerçekten modaya aşık ufaklık halini çok özlüyorum.
The most interesting thing of the event was Grazie's Reporter twitter message:
"At Dior. Not best pleased to be watching couture through 13 year old Tavi's hat," and He/She posted photo below.
No comment! Tavi's answer is here. I just want to say, I missed old Tavi who is natural, happy and fashion lover kido. Unfortunately she looks artificial and distant now:(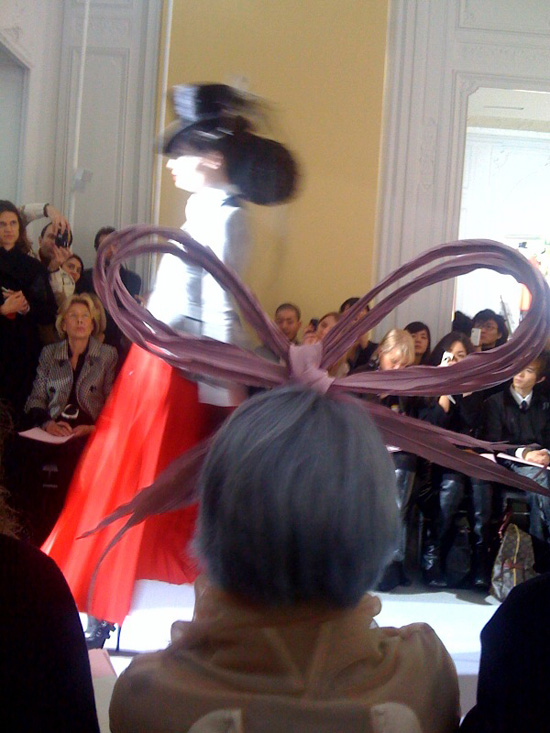 Tavi's Blog:
THE STYLE ROKIE